Puzzled
when the PIECES don't seem to fit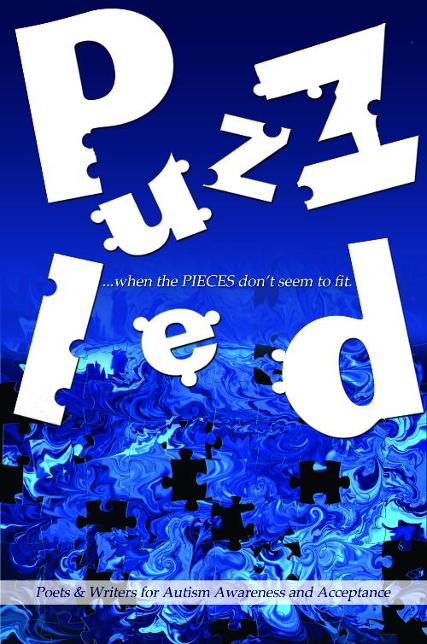 Exclusively Here for just
$15.00

Preface
The Poetic Anthology "Puzzled…When the Pieces Don't Seem to Fit" was born from a need to bring awareness and acceptance to Autism Spectrum Disorder, a Neurological Disorder that affects social and communication development. ASD crosses all ethnic and socioeconomic lines, affecting 2-4 per 10,000 births in which boys are 4 times as likely to be diagnosed than girls, which means 1 in every 70 boys are diagnosed as having Autism. The "Spectrum" as it is commonly called, can range in expression from severely involved to mildly affected.
I being the Mother of a "Sun" who is on the spectrum wanted to do something to bring insight to help empower advocacy in a way that most had not. While my experience is different from others, there are many children and adults living with Autism who struggle with support and not having the voice to convey their thoughts or feelings of being "different not less." With that notion myself along with Marquise Williams reached out to our Poetic Community of beautifully talented friends and associates to help give a voice to a very misunderstood and commonly misdiagnosed disorder. We've found that the 6 degrees of separation where Autism is concerned within our Poetic community is astounding. It is our hope that this is the perfect way to contribute by offering a collection of Poetry containing pieces written by Artists directly or indirectly affected by Autism.
We came together collectively using our gift of words as only we as Poets/Writers and Artists know how, to impact awareness and promote education and acceptance of a Disorder that affects myself and countless others.
Whether you Love someone or just know someone who knows someone else with some form of Autism, we hope to honor them by bringing a level of consciousness to this disorder that is so prevalent and widely misunderstood in our society.
Please enjoy these wonderful works of poetry and prose beautifully written in our words from a different perspective in "Puzzled....When the Pieces Don't Seem to Fit."