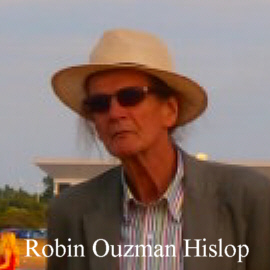 Robin Ouzman Hislop, born UK, graduate in philosophy & religions, has travelled extensively throughout his lifetime but now lives in semi- retirement in Spain as a TEFL teacher and translator.
Robin was editor of the 12 year running on-line monthly poetry journal Poetry Life and Times. In 2013 he joined with Dave Jackson as co-editor at Artvilla.com, where he presently edits Poetry Life & Times.
He's been previously published in a variety of international magazines, recent publications including Voices without Borders Volume 1 (USA), Cold Mountain Review (Appalachian University, N. Carolina), The Poetic Bond Volumes (thepoeticbond.com) and Phoenix Rising from the Ashes (a recently published international Anthology of Sonnets).
02 Heart Like An Open Book.mp3