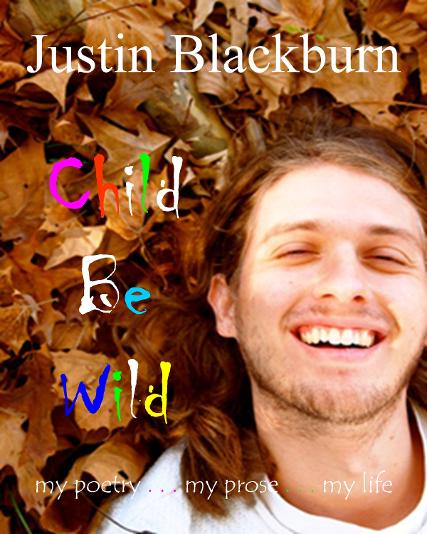 a few words from Justin . . .
CHILD BE WILD
I absolutely adore this book! How could I not? It was written by me from a deep, loving feeling of adoration for all things. I feel so enthralled and blessed that is out there able to be shared amongst the people. I feel it is my most cohesive, inspiring, and deepest expression of my truest nature in poetic form yet. That is a great feeling. I feel it is a book truly for the hearts of everyone, children, grandmothers, hipster kids, bus drivers, soccer moms, business men etc. Even though parts of it could be considered flowery, (which I love) I feel so much raw, longing, desperate beautiful love feelings included beyond these words that can melt even the hardest heart. I truly feel that every person on this wondrous planet is a beautiful being desiring to share their gifts and know themselves fully. Sometimes when the energy of that desire is unable to be expressed, it feels heavy and that heaviness becomes fear, guilt, pain, hatred etc. which keeps us from feeling the truth of who we are. This book knows that. This book expresses that. This book gives loving guidance and compassion to all. This book is truly a gift God gave to me for being so open about my love for life and now I am giving it to you. Please give this book to your friends! This book is a gift full of deep honest heartfelt healing as well as divine mediations to guide one to that place we all want to love from. Love it, treasure it, breathe it, feel it. You are truly blessed. Of course you are truly blessed whether you have this book or not but my intention is for this book to help us go deeper into the awareness of how infinitely amazing we all are. Who better to publish this then Bill? Haha, I love you all. Thank you. You are all such glowing, flowery, hardcore inspirations to me.
Love - Justin Blackburn
a few words from Janet P. Caldwell ...
When I was asked to write a word for Justin, I was filled with excitement! Why? Justin is a bold visionary, a buster of commonality, revolutionary, edgy and tells it like it is. At times, at the risk of offending someone, but always with LOVE; Justin Chooses to shake up the average man or woman to think outside of that limited box, that most of us have not only dwelt in, but are far too comfortable in.
I laughed the first time I heard him on the radio because he is so incredibly funny in telling the truth. With his infectious personality and his effervescence spilling all over the place, Justin puts you in a happy trance as you listen, but you come away feeling powerful. He's the kind of man that will tell you off and you will thank him. Smile.
Simply put, Justin is Sheer Genius. I applaud this young man, his visions, his poetry his art and above all, I applaud the heart of this fierce young warrior who has brought about a change in all of the lives who have crossed his path. I am ever grateful for this force of nature and I humbled to have that shining light in my view, that light called Justin Blackburn.
Janet P. Caldwell
Author / Poet
01 Barefoot on The Beach.mp3
about the Author . . .
Justin Blackburn is the Poet for the Awakening. He is also a Novelist, Comedian, Inspirational speaker, and Intuitive Inner Healer.
His first book, novel Gifted Disabilities, written with Kenny Norsworthy in 2004, created such a controversial stir with Bush administration, Blackburn got a visit to his apartment from the United States Secret Service. Gifted Disabilities traveled widely the underground world which led to Fat Possum Record's band, Co.'s lead singer Brian Hannon to publish Blackburn and Norsworthy's second book It's Hard To Get There When You Are Already There.
Due to this masterful work Blackburn was named Beat Magazine's 2007 poet of the year. Two years later Blackburn had two books of poetry published, the hilarious fear transforming Farting Fire by Virgogray Press as well as the emotionally cleansing Female Human Whispers Of Strong Masculine Gentleness by Shadow Archer Press. That year Blackburn became the highest seller for both presses. In 2011 Blackburn's poem Before I Opened Myself To Love won the Dripping Silence Poetry Contest.
In 2012 Virgogray Press published another collection of Blackburn's poems You Are Not A Normal Human Being. Blackburn has had hundreds of poems published in magazines, literary journals, anthologies, zines, walls, bodies, etc. including Fissure Magazine, Left Behind Literary Journal, Speed Poets, Open Mind's Quarterly, Angel Voices, & A & U's America AIDS Magazine as well as many others.
Off the page Blackburn is a phenomenal, one of a kind, spoken word performer. He uniquely interprets his pieces as different vivid, colorful characters while expressing a joyous enthusiasm celebrating the essence of being. Blackburn, will not only blow your mind, he will also open and expand your heart. Justin has performed and featured all over in numerous venues, festivals, colleges, high schools, house shows etc. Some of the places include the River Center for the Performing arts for the Georgia State Poetry Society, Poetry and Pancakes, Brick City Verse, Witsend, TRAM Art Festival, Black On Black Rhyme, Leaf Festival, Furman University, CE Murry High School etc.
In 2010 Blackburn won the Club 100 poetry slam and was awarded a spot on the New Danger Slam Team where he performed at the Southern Friend Poetry Slam.
Justin knows accolades do not make his existence less of a cage and though he deeply appreciates everything he has experienced, he prefers to show his depth and inspiration through being unconditionally loving to himself and everyone else! Justin Blackburn loves you.