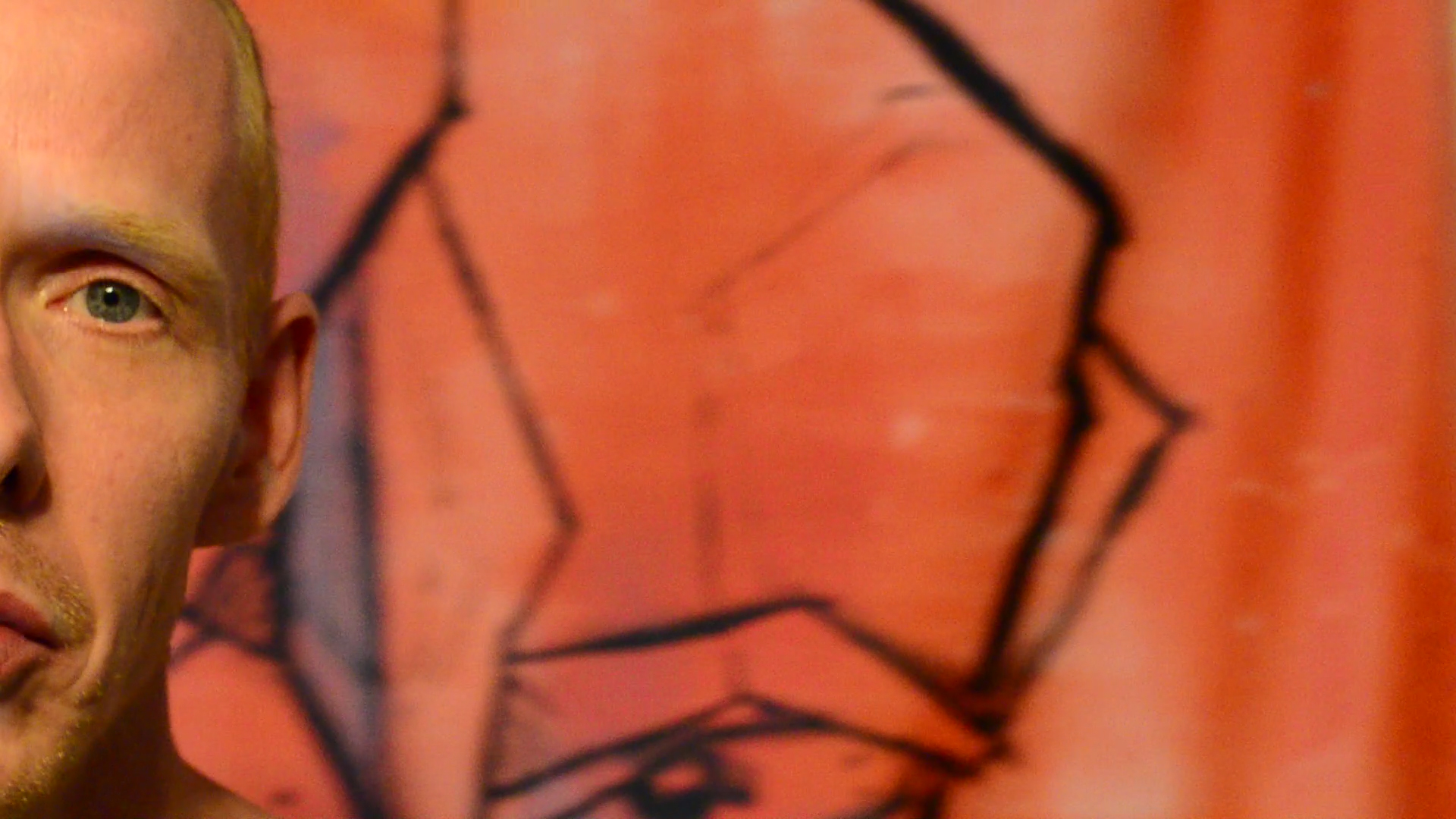 beyond Special
Announcements
Monday, July 21
Street Poet Monte Smith aka King Poetic will be joining the stage with KoshFace Jackson @ Knockturnal in Charlotte, with J-Live, Supastition, and Keyza Soulsay on Monday, July 21 at Snug Harbor. This is Koshface Jackson's first show in NC, so get the night off of work, call the babysitter, and strap your neckbrace on.
Oh, did I mention it's FREE !!!!
October 25th in Brooklyn, NY.
Street Poet Monte Smith aka King Poetic will be performing at the 'Hip Hop Against Human Trafficking' awareness event at The Paper Box on October 25th in Brooklyn, NY. Street Poet Monte Smith will also give a bonus performance with underground giants Koshface Jackson.
Mark You Damn Calendars Folks
Monte will be Bleeding every Word
Now Available

the Highly Awaited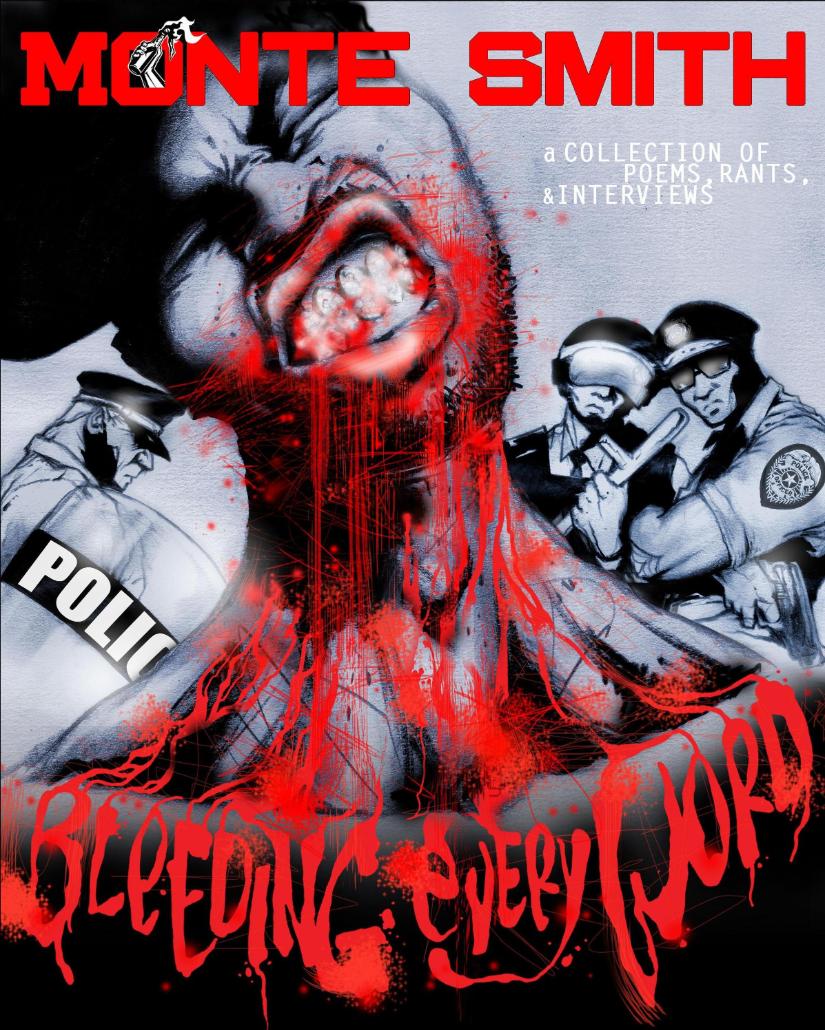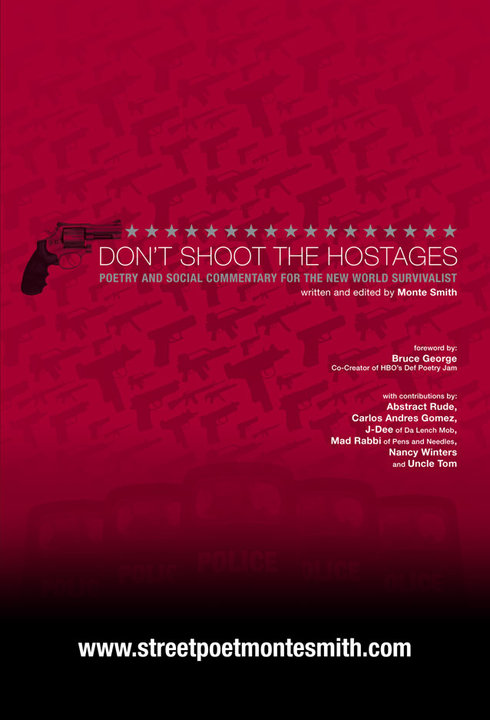 About the Author
Monte Smith is a writer, educator, and activist for social justice based in Winston-Salem, North Carolina. Monte began his writing and activism in the late 1980's, working and writing literature for the revolutionary groups Skinheads Against Racial Prejudice (SHARP) and the Anti Racist Action (ARA).
In the 1990's, Monte created Third World Citizens, a Hip Hop collective that later spawned the careers of DJ Faust, DJ Klever, and DJ T-Roc. As a freelance music journalist, Monte worked as a frequent contributor for URB, SUBCULTURE, and HEADZ magazines. Over the years, Monte has interviewed Maxine Waters, Black Moon, Old Dirty Bastard, DJ Qbert, KRS 1, The Beatnuts, Smif n Wessun, Crazy Legs, Black Thought, Poet 99, Aceyalone, and AZ—to name a few.
A fearsome competitor on the slam circuit, Monte has won The Alabama Grand Slam, the Roanoke, Virginia Slam (twice in a row), and the infamous Rough Rhymes Competition. As a featured performer, Monte has headlined across the United States—from Atlanta to Boston to Los Angeles and back. His most notable performances include Mango's in Washington, D.C., and two performances at the world-famous Nuyorican Poets Café in NYC. He has also been a featured poet on Def Poetry Jam's website. In addition to featured performances, Monte has performed with Amiri Baraka, J-Live, Talib Kweli, Little Brother, Mr. Complex, DJ Vadim, Abstract Rude, Saigon, Tanya Morgan and El Da Sensei.
In 2002, Monte established the now-infamous Red Bull Word Clash, which quickly became the largest street poetry competition in the world. In its four-year existence, the Word Clash drew competitors from all over the globe. The incendiary documentary of the Word Clash won the audience award at the 2006 New York City Indy Film Festival, and garnered accolades from such diverse news outlets as Greensboro's Triad Style and the Greek daily Eleftherotypia, which devoted a full page to coverage of the Word Clash.
Monte's poem and songs have appeared on mix tapes by DJ Lt Dan, DJ Soundmachine, and DJ Chela. Together with French producer Junkos Mood, Monte is one-half of the revolutionary group Riot Radio, whose album The Art of Killing Children was released in 2009. He has recorded with DJ Vadim, Breeze Evaflowin', and MF Grimm.
In addition to his poetry and activism, Monte Smith is an acclaimed lecturer. He has spoken at Wake Forest University, Duke University, Guilford College, Loyola Marymount University, and the Racial Equality Week symposium at Lawrence Joel Coliseum in Winston Salem, NC. Dedicated to helping his community's youth, Monte created a poetry workshop for high-risk youth in Winston-Salem, and was a frequent lecturer at West Guilford High School in Greensboro, NC.
Monte has previously published two books of revolutionary poetry: High Protein Tongue Arrangements: Poetry for the Urban Survivalist, Volume 1 (which sold out two printings) and Don't Shoot the Hostages (featuring an introduction by Bruce George, as well as poetry by Carlos Andreas Gomez, J-Dee, Abstract Rude, The Mad Rabbi, and Uncle Tom). Chuck D of Public Enemy personally selected Monte's poem "The Deal is Done" to record for the audio version of The Bandana Republic: A Literary Anthology by Gang Members and Their Affiliates (Soft Skull Press).
I have never met Monte Smith in person. I met him and first heard his work on an online radio show. He read a poem from his book, "Don't Shoot the Hostages," and, while I can't recall which poem it was, I do recall that my reaction was so gut-felt, I could barely breathe. His poem and his passion broke my heart, made me furious and excited. I cried and smiled and listened. My mind said, "Pay attention! You are hearing one of the best poets writing today." My mind also said, "I wish I'd written that."
That same night, too inflamed to sleep, I sent emails to everyone I could think of who reads and loves poetry. I sent emails because, if I'd run outside and yelled, "THIS IS THE REAL THING PEOPLE--THE REAL THING! READ IT AND WEEP! READ IT AND START A REVOLUTION!" they would put me in a strait jacket and haul me away.
I can count on one hand the names of new poets who have so impressed me that I couldn't wait to read their books and begged for a pdf to tide me over until I received the real thing. That is what I did. I wrote to order a book and, while waiting, couldn't wait so I asked if he could send me a pdf. I had to read more, experience more of this electrifying new poet. I received the hard copy book—a beautiful book, by the way—and, inside of a week, it was dog-eared and spine broken from being read again and again.
Now, I am presented with this new book, BLEEDING EVERY WORD. Monte Smith's voice is again crystal clear, marked with pain and anger and disillusionment and betrayal and love, yes Love with a capital "L." Because in all the other tonalities of his voice, the overriding tone is LOVE—for what should be, what could be, what needs to be. His voice is that of a father, not only of his own daughter, but the father in protest that so have had and, sadly ignored, laughed at, or killed. He is that knowing/seeing father as Malcom X was our father, as Bukowski was our father, as Baldwin and Emmett Till were our fathers. His work carries inside it the sadness and outrage of years that hosted the deaths of The Mississippi Five and those who died at Sand Creek and Wounded Knee, Matthew Shepherd and Harvey Milk, the Shafia Sisters, Denise McNair, Cynthia Wesley, Carole Robertson and Addie Mae Collins.

When he reacts to global war, you hear the gunfire, feel the ugly heat of battle for the sake of battle, war that lines the pockets of the privileged.
He writes about these things, he tells us, …because western civilization equals white domination…because the mark of the beast isn't 666, it's the cross around your neck…because there's blood in this poetry and I want you taste it.
When he weeps in frustration at the emotional and material poverty of his world, he grabs his readers by the shirt collars and demands that they have the good graces to weep with him. If what he sees and makes us see, does not make us weep, we have no souls. He feels the kind of poverty that we know exists in places like Reading Pennsylvania, Bennett Freeze Area, Arizona, Pico-Union District, Los Angles, CA, Calhoun, West VA and Aulander, North Carolina. He feels the poverty of the mind and soul that is all around us everywhere.
He says: "Now, since nobody can buy shit, everybody is realizing they don't look like the people in the movies, they're not eating in the same restaurants they see celebrities eating in on TV and everybody hates themselves

He says: Look around, this human eat human system isn't meant for the living, it's beating, raping and choking everything pure in the hearts of our children, in return killing anything good they had worth giving. Look around, everything alive isn't living… it's more like barely existing.
I can tell you very little else about this alarming, amazing, wonderful poet. Read this book, then read it again. Then, for gods sakes, put the book down and go DO something about our world.
Martina Reisz Newberry,
Palm Springs, CA
June 2012
Solomon Comissiong for Monte
Every so often (if you are fortunate enough) we are introduced to the words of a literary master---someone who's written words invoke an array of emotions. Their words move us to examine things from alternative perspectives. And for these reasons, and so many more, we cling to their words as if they held vast secrets of the universe. Street Poet, Monte Smith, is one of those unique literary masters. His ability to string together words in ways that tell powerful narratives is, quite simply, in a class of its own.
Monte Smith's latest book, Bleeding Every Word, in my humble estimation---may be his most powerful work yet. After reading this book I was not only filled with an array of emotions, I was amped up and re-energized to take to the streets and organize a much needed social revolution. This is why this book is so damn dangerous to the so-called 'powers that be', for if the masses are exposed to books like this they will begin to think outside of the tiny boxes they have been programmed to stay within. And if the masses (collectively) begin to think critically about things like social injustice and the wretched exploitation caused by capitalism---they might just work together to do something tangible about it, thus putting an end to the mass suffering caused by the systems of oppression riddled throughout America.
Bleeding Every Word is replete with Monte Smith's deepest thoughts and perspectives on everything from institutional racism to white supremacy, as well as organized religion. This book is not unlike a virtual conduit in to the mind of a literary genius. That genius is Street Poet Monte Smith. And if you give a damn about social justice, you will not read this book---You Will Study It. It is a masterpiece and Monte Smith in an under-appreciated street poet----change that by studying this book now!
Solomon Comissiong
Executive Director of Your World News
Author of A Hip Hop Activist Speaks Out on Social Issues
Monte Smith is an internationally acclaimed Street Poet,
Civil Rights Activist and Community Based Educator.

For bookings, speaking engagements or more info

contact: John Brown at
streetpoetmontesmith@gmail.com
from Gabe Rosales . . . Zulu Nation

I first saw Monte Smith perform The Art of Killing Children at the Red Bull Word Clash on a youtube video and I have to say this was one of the moments that physically woke me up. My eyes widened and I could feel my blood pressure rise. His words encompassed the reality of one of my oldest battles against traditional trains of thought and the ferocity in his eyes mirrored the foundation of my contempt for these failed moral systems in my deepest psyche. He spelled out things I was thinking and had thought, but he also influenced my frustration with knowledge that forced me to research. Seeing this video of him on youtube was instrumental in my quest for justice. He helped define what I knew had to be done.

Monte's writing is relentless and it keeps you on your toes. It never comes from a place other than a love for humanity, here and now, and that's why I think I relate to him so much. He reflects the most inhumane practices that are common place in this so-called civil society and in doing this he shows us a path on how we need to evolve as a species. He demands action and when you are in his presence in physical life or his being on paper, or see him perform, you have no other choice. He shows us the struggle of modern man, period. He not only addresses the inequalities, he brings you into the lives of millions of people across the country as we live in our exceptionality to the rest of the world.

His newest book is the most definitive, thought provoking work yet as he pulls on many resources to drill home the message and shock our synapses into truly being alive. I need it and I know many more do to. I read his books and selections as daily passages to consistently break the shell that is my own reality and remind myself where we came from, where we are and what we can do. I am proud to know Monte and be able to contact him and discuss issues to pick his brain. He is one of the strongest people I know and one of the few I know who never gives up and who truly cares, AT ALL TIMES. He is one of my literary heroes and he molds how I define my work on this planet. He's one of the pillars of the people's movement and spreading his work is a civic duty. Bleeding Every Word is a weapon and like a weapon, we must use it to arm ourselves and drop it in circles to take action against defunct systems.

Gabe Rosales . . .
Musician
Artist
Zulu Nation
Inner Child Radio
Monte Smith & Bruce George
Interview
Conversations with 'just bill'

Inner Child Radio
Monte Smith & Gabe Rosales
Interview
Conversations with Cheryl

Please Listen To My Promo .mp3
01 Deal is Done Featuring CHUCK D.mp3
Riot Radio - call to arms.mp3
08 Hostile Territory (Down South MIx).mp3